Wednesday
1990-07-04
Events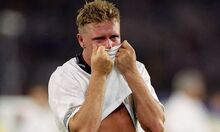 1990 World Cup: W. Germany v. England. 1-1 after extra time. Germany beat England 4-3 on penalties.[1] The match is famous for scenes of Paul Gascoigne bursting into tears at the end of the game and Gary Lineker's quote, "Football is a simple game. Twenty-two men chase a ball for 90 minutes and at the end, the Germans always win".
Ad blocker interference detected!
Wikia is a free-to-use site that makes money from advertising. We have a modified experience for viewers using ad blockers

Wikia is not accessible if you've made further modifications. Remove the custom ad blocker rule(s) and the page will load as expected.