Wednesday
2016-07-13
Events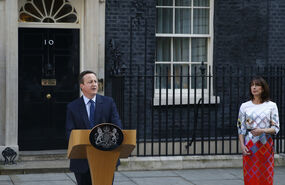 David Cameron resigns as Prime Minister of HM Government. The resignation came in the wake of the winning 'LEAVE' vote in the Brexit referendum held on 23 June 2016. Despite calling the referendum, Cameron had stated that he was favourable towards remaining in the EU and therefore declared, "I do not think it would be right for me to try to be the captain that steers our country to its next destination." He was succeeded by Theresa May.
Ad blocker interference detected!
Wikia is a free-to-use site that makes money from advertising. We have a modified experience for viewers using ad blockers

Wikia is not accessible if you've made further modifications. Remove the custom ad blocker rule(s) and the page will load as expected.