Wednesday
2017-06-14
Events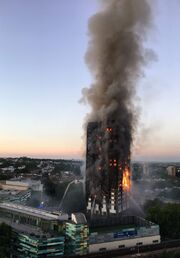 A fire breaks out around 1 a.m. in the Grenfell Tower in West London. The fire reportedly began on the second floor and spread at a "terrifying rate" upward and to the other side of the building. By mid-day the Metropolitan Police announced there were six people confirmed dead, and more than 70 in hospital, with twenty in critical condition. At 17:04, the number of dead was increased to twelve.
Ad blocker interference detected!
Wikia is a free-to-use site that makes money from advertising. We have a modified experience for viewers using ad blockers

Wikia is not accessible if you've made further modifications. Remove the custom ad blocker rule(s) and the page will load as expected.