Sunday
2017-07-16
Events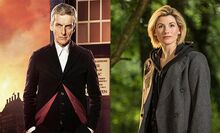 Roger Federer wins the Wimbledon Men's Singles championship for the seventh time.
The name of the new actor in the role of Doctor Who in the long-running TV series is announced. Jodie Whitaker, who will replace Peter Capaldi in the next series, will be the first female to play the role.
Ad blocker interference detected!
Wikia is a free-to-use site that makes money from advertising. We have a modified experience for viewers using ad blockers

Wikia is not accessible if you've made further modifications. Remove the custom ad blocker rule(s) and the page will load as expected.