Friday
1990-06-22
Events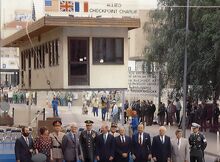 'Checkpoint Charlie', the Allied forces control booth on the border crossing between East-West Berlin, was removed.[1]
The three-day 20th Glastonbury Festival begins. It was the first year that it took its new name of Glastonbury Festival for Contemporary Performing Arts, and was the last year that donations from the profits of the Festival were made to CND. Acts included: The Cure, Happy Mondays, Sinead O'Connor and James. Tickets £38.00.
Top of the Pops
presented by Jakki Brambles
(35) MAGNUM – Rockin' Chair
(4) ROXETTE – It Must Have Been Love (video)
(19) BIG FUN & SONIA– You've Got A Friend WATCH
(8) WILSON PHILLIPS – Hold On (video)
(29) RED HOT CHILI PEPPERS – Taste The Pain (video) (Breakers)
(32) BRUCE DICKINSON – All The Young Dudes (video) (Breakers)
(37) DOGS D'AMOUR – Victims Of Success (video) (Breakers)
(30) YAZZ – Treat Me Good
(20) CRAIG McLACHLAN & CHECK 1-2 – Mona (video)
(3) LUCIANO PAVAROTTI – Nessun Dorma (video)
(12) M.C. TUNES versus 808 STATE – The Only Rhyme That Bites (video)
(1) ELTON JOHN – Sacrifice
(25) M.C. HAMMER – U Can't Touch This (video) (and credits)
Ad blocker interference detected!
Wikia is a free-to-use site that makes money from advertising. We have a modified experience for viewers using ad blockers

Wikia is not accessible if you've made further modifications. Remove the custom ad blocker rule(s) and the page will load as expected.