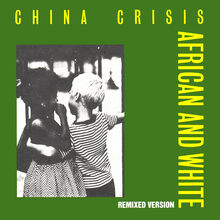 African and White is the title of a song by China Crisis, released as their debut single in 1981, successively remixed and re-released in 1982, both on Inevitable records. The song was written by group members Lundon, Daley and Reilly and was produced by Jeremy Lewis. The remixed version was later included on the group's debut album Difficult Shapes.. .
The B side to the original issue was a track entitled Be Suspicious. This was replaced on the re-issue by a new track Red Sails, recorded on 8 track at Amazon studios on 15 June 1982, produced and mixed by Gil Norton. Be Suspicious was remixed and re-instated as bonus a track for the 12" release which featured a remixed and extended version of African and White. The re-issue reached no.45 in the UK singles charts in August 1982.[1]
An early 'home demo' of African and White from 1979-80 is included on the CD collection Fine and Also Rare China. [2]
African and White made no.22 in John Peel's 1982 Festive Fifty.[3]
Track-listing
original 7" issue, 1981 INEV 011
A. African and White
B. Be Suspicious
re-issue 7", 1982 INEV 011
A. African and White (remixed version)
B. Red Sails
A. African and White (remixed and extended version)
B1. Red Sails
B2. Be Suspicious
External links
Ad blocker interference detected!
Wikia is a free-to-use site that makes money from advertising. We have a modified experience for viewers using ad blockers

Wikia is not accessible if you've made further modifications. Remove the custom ad blocker rule(s) and the page will load as expected.