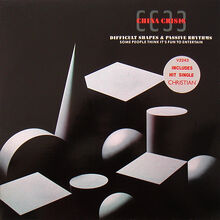 Difficult Shapes & Passive Rhythms - Some People Think It's Fun To Entertain is the title of the debut album by China Crisis released on Virgin records in November 1982. The album features four different producers and song writing is attributed to the three group members of the time Eddie Lundon, Garry Daly and Dave Reilly. Cover design is by Peter Saville Associates.
Difficult Shapes.. achieved limited success on its release although eventually made it to no.21 in February 1983 on the back of the success of the single Christian, a longer version of which appears on the album. the album also includes early single African and White and the follow-up No More Blue Horizons
Tracklisting
Side One / "Difficult Side"
Seven Sports For All
No More Blue Horizons (Fool, Fool, Fool)
Feel To Be Driven Away
Some People I Know To Lead Fantastic Lives
Side Two / "Entertainment Side"
Are We A Worker
Red Sails
You Never See It
Temptation's Big Blue Eyes
Jean Walks Through Fresh Fields
Connections
in record collection (cassette)
External links
Ad blocker interference detected!
Wikia is a free-to-use site that makes money from advertising. We have a modified experience for viewers using ad blockers

Wikia is not accessible if you've made further modifications. Remove the custom ad blocker rule(s) and the page will load as expected.