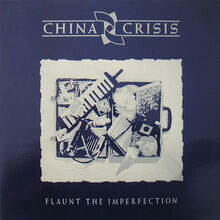 Flaunt the Imperfection is the title of the third studio album by China Crisis released on Virgin records in May 1985. Produced by Steely Dan founder member Walter Becker it is the group's most commercially successful album to date.
The album entered the UK chart at no.9 on its release and remained in the Top 40 for eleven weeks. It spawned four singles, Black Man Ray, King in a Catholic Style, You Did Cut Me and The Highest High, the first two of which made the Top 20.
Tracklisting
original LP/cassette and CD, 1985
Side One
The Highest High
Strength of Character
You Did Cut Me
Black Man Ray
Wall of God
Side Two
Gift of Freedom
King in a Catholic Style
Bigger the Punch I'm Feeling
The World Spins, I'm Part Of It
Blue Sea
Connections
in record collection (cassette)
in Top 50 albums
in Top 10 albums of 1985
External links
Ad blocker interference detected!
Wikia is a free-to-use site that makes money from advertising. We have a modified experience for viewers using ad blockers

Wikia is not accessible if you've made further modifications. Remove the custom ad blocker rule(s) and the page will load as expected.