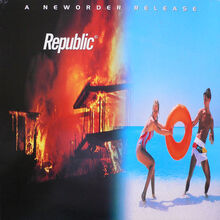 Republic is the title of the sixth studio album by New Order. It was released on 03 May 1993 and was their first album on London records, ie. their first not to be released on Factory. Recorded and mixed at Peter Gabriel's Real World Studios, it was produced and co-written with the band by Stephen Hague. It went straight into the UK album charts at no.1, spending a total of 14 weeks in the Top 40.
The album's release was preceded by the single Regret, the opening track, New Order's last top 5 single in the UK. It spawned three more singles Ruined in a Day, World (The Price of Love) and Spooky.
Tracklisting
Side One
World
Ruined in a Day
Spooky
Everyone Everywhere
Side Two
Young Offender
Liar
Chemical
Times change
Special
Avalanche
CD has same tracks.
Connections
in record collection (CD). Bought in June 1993
Ad blocker interference detected!
Wikia is a free-to-use site that makes money from advertising. We have a modified experience for viewers using ad blockers

Wikia is not accessible if you've made further modifications. Remove the custom ad blocker rule(s) and the page will load as expected.