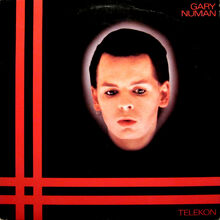 Telekon is the title of an album by Gary Numan. Released in September 1980 it is Numan's first solo album, although he had previously released another two as Tubeway Army.
Tracklisting
Original album version Side One
This Wreckage
The Aircrash Bureau
Telekon
Remind Me to Smile
Sleep By Windows
Side Two
I'm An Agent
I Dream of Wires
Remember I Was Vapour
Please push No More
Joy Circuit
Notes
The release of the album was preceded by two singles 'We Are Glass' b/w Trois Gymnopedies and 'I Die: You Die'  b/w Down in the Park (Piano version) neither of which featured on the Telekon LP. 'We Are Glass' and 'I Die: You Die' featured on the cassette version, placed at the end of Side 1 and Side 2 respectively.
Initial limited edition copies of the LP came with a free 7" single featuring On Broadway (live) b/w Remember I Was Vapour (live).
Album track This Wreckage was released as a single in December 1980, b/w new track 'Photograph'. [1]
A 16-track CD edition of the album was released in 1998. [2]
Connections
I bought the album on its release on 06 September 1980, together with the I Die: You Die single. i bought it early also to ensure I got the free live single.
The album is in my all time Top 50 and Top 5 Numan albums.
Ad blocker interference detected!
Wikia is a free-to-use site that makes money from advertising. We have a modified experience for viewers using ad blockers

Wikia is not accessible if you've made further modifications. Remove the custom ad blocker rule(s) and the page will load as expected.