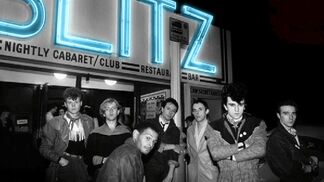 Visage were originally a new wave 'supergroup' formed in 1978 by vocalist Steve Strange and drummer Rusty Egan (formerly of Rich Kids) together with Midge Ure (Rich Kids, Ultravox), Billy Currie (Ultravox), Adamson, McGeogh, Formula (Magazine) and Chris Payne (from Gary Numan's band). The group recorded several demos and released a debut single 'Tar' on Martin Rushent's Genetic Records, by which time the 'New Romantic' movement, spearheaded by Strange and Visage, had taken off. The group released their debut eponymous album in late 1980, preceded by the iconic hit single Fade to Grey, written by Currie, Payne and Ure.
Steve Strange died in February 2015.
Connections
Record collection
Ad blocker interference detected!
Wikia is a free-to-use site that makes money from advertising. We have a modified experience for viewers using ad blockers

Wikia is not accessible if you've made further modifications. Remove the custom ad blocker rule(s) and the page will load as expected.